The Best Swing Dresses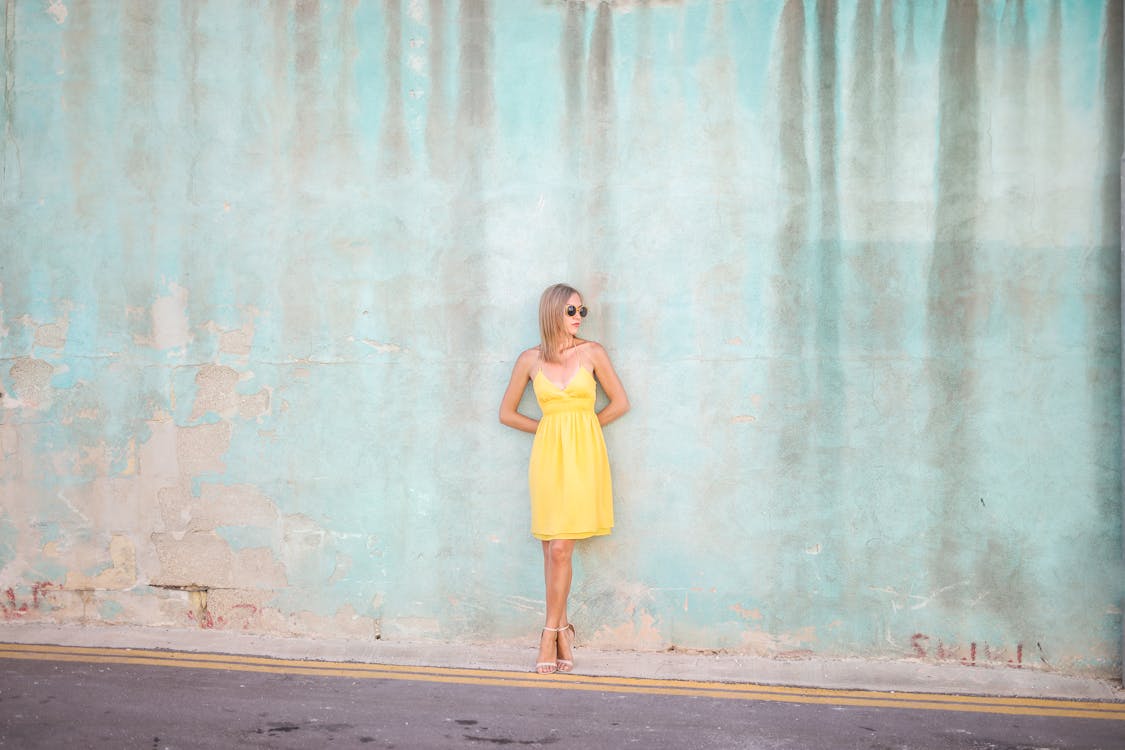 If you don't already have a swing dress in your wardrobe, there's no better time to change that than now. This effortlessly adorable dress is ultra-versatile, suitable for anything from weekend beach days to weekdays at the office. You can dress it up or down depending on the occasion, so no matter where you're headed, rest assured that you'll feel confident and beautiful in a flattering swing dress. We've rounded up some of the best ones out there, so read on to find the dress you simply must add to your wardrobe.
Tralilbee Women's Plus Size Swing Dress
You'll look simply stunning in this plus-size swing dress.
With Tralilbee's inclusive plus-size dresses offered in a plethora of colors and patterns, you'll be sure to find a dress that is 100% you. The pleats on the front give an added dash of style, making the dress move and flow with you. And of course, most importantly, it has pockets (we know — we're in love, too). Wear this flowing, airy dress on a trip to the beach with your favorite floppy hat or on a warm day to a picnic in the park. No matter how you style it or where you're going, you can be sure you'll feel confident and look effortlessly beautiful with Tralilbee's swing dress.
Pros
Many color and pattern options
Includes pockets
Cons
Korsis T-Shirt Swing Dress
This t-shirt dress can easily be dressed up or down for any occasion.
This t-shirt style dress is comfortable and cute with its combination of stretchy materials and fun colors and patterns. Boasting true versatility, this dress can be used as a casual day-to-day frock or a sophisticated yet understated brunch look. Dress it up with a sweater and heels or dress it down with chunky sneakers and a jean jacket for a casual look. You can even wear a corset over the dress, adding dimension and shape to your outfit for a trendy look. Whether you're looking for a casual dress or just a fun basic, it's hard to go wrong with this t-shirt swing dress.
Pros
Includes pockets
Multiple size options
Many color and pattern options
Cons
MSBasic Sleeveless Swing Dress
This breathable swing dress brings coolness to another level — all while being super adorable.
There's nothing worse than wearing the wrong dress on a hot day and getting massive pit stains. With MSBasic's swing dress, though, you don't need to worry about that. This lovely sleeveless garment will allow you to move with ease and avoid excessive sweating on those sweltering days. So, head to the beach or take a casual stroll through the neighborhood while feeling truly free. The adjustable straps provide more flexibility in the sizing, making it a great option for gals of any height. With pattern options like florals, polka dots, stripes, and animal prints, you can find a dress to fit any style. Truly a basic, you can add chunky gold jewelry to elevate your look, or throw your hair up in a claw clip and add a small shoulder bag for a casual look. Easy and breezy — that's exactly what this dress is all about.
Pros
Many color and pattern options
Adjustable straps
Cons
Levaca Ruffle Swing Dress
This trendy swing dress adds something special with a tiered ruffle look.
If you're looking for a baby doll-esque dress, this swing dress is for you. The round neckline and tiered bottom help give the dress give an easy-going look, making it perfect for dinner by the sea or a walk around the neighborhood. With colors like yellow, army green, sky blue, and black, you'll surely find a dress that matches your style. If you want something bolder, there are pattern options, including polka dots and floral. Made for sunny days, you'll be comfortable, cool, and fashionable with this ruffle swing dress.
Pros
Many color and pattern options
Pleated, tiered bottom
Cons
Mitilly Midi Dress
If you're looking for something a bit longer, this midi swing dress is the one for you.
This midi swing dress is perfect for formal events and casual get-togethers alike. Don it anywhere from a backyard barbeque to a beach wedding or day at the office. With lovely touches like a button-down front, a V-neckline, and a flutter sleeve, this swing dress is a step above the rest. You can also adjust the waist tie when you need a bit more room — perhaps after a delicious meal. No matter what your day holds, you can feel confident and playful in this trendy midi dress. Sure to turn heads and make a statement, this dress will help you tackle your next event in style.
Pros
Includes pockets
Many color and pattern options
Midi length dress
Cons
Frequently Asked Questions 
What is a swing dress?
A swing dress has the classic "A-line" shape, with the added twist of a form-fitting chest and a flowy bottom. This shape is effortlessly beautiful and versatile while remaining comfortable.
What body shape is best for a swing dress?
The time of telling women what they should or should not wear based on their body type is long gone. Whether your body type is pear, apple, or whatever other fruit they've decided, you can wear whatever makes you feel your best. Swing dresses provide a casual and simple look that's fit for almost any occasion and perfect for every woman. So put on that dress, grab your favorite pair of shoes, and know that you look beautiful just as you are.